Margarita Mijangos (also known as La Madhu) is an independent artist; she studied at the National School of Plastic Arts and the Popular University of Arts, she is also a self-taught artist in search of discovering new horizons.
La Madhu loves to work handmade pieces using all kinds of noble materials, creating designs with the natural textures of wood, cotton, natural stones and paper, inspired by those creative feelings that emerge when she does those she likes, and doing it with dedication and passion for art.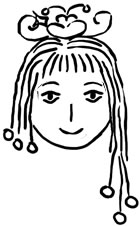 La Madhu has created an art workshop dedicated to design from simple concepts to very elaborated ones with grace, movement and style. These arts have been developed through skills acquired in different techniques related to painting, engraving, decapé, sculpture and others, using the colors and shapes in an artistic way.
She defines the natural irregularities of some materials with colors, giving balance to each individual piece by combining a trend between rustic and up-to-date styles. Her designs synthesize the contemporary aesthetics with centuries-old Mayan textiles and ethnic wood carvings.
Some artisans collaborate with La Madhu to help with basic details in the production of her designs, such as wood carving or the making of some fabrics; La Madhu supports Mayan-ethnic artisans and artists in accordance to the fair-trade guidelines.